Organize all your recipes

with Cook'n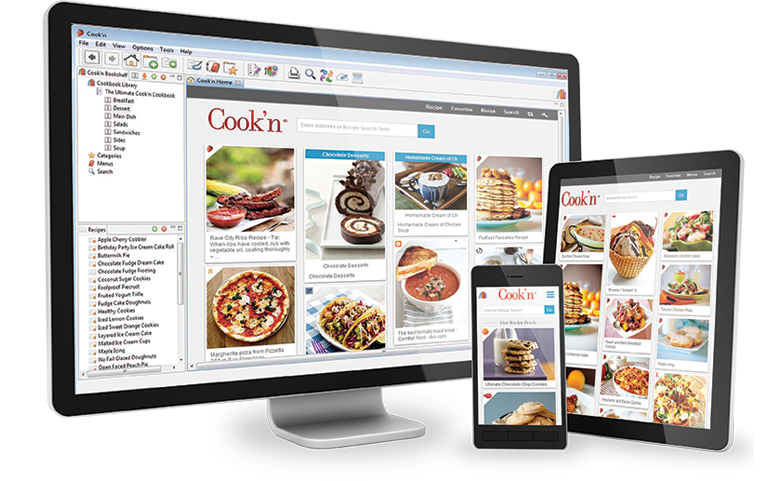 Use Cook'n to

Organize

all your recipes.
Cook'n is the perfect solution to organize your personal recipes. When you have entered your personal recipes into Cook'n you can:
Create a family Cookbook
Share your recipes easily
Create menus and meal plans
Enhance the recipe by adding photos and stories
Get the nutritional facts for your recipes
and much more!
---
Easily Capture Internet Recipes

with Cook'n!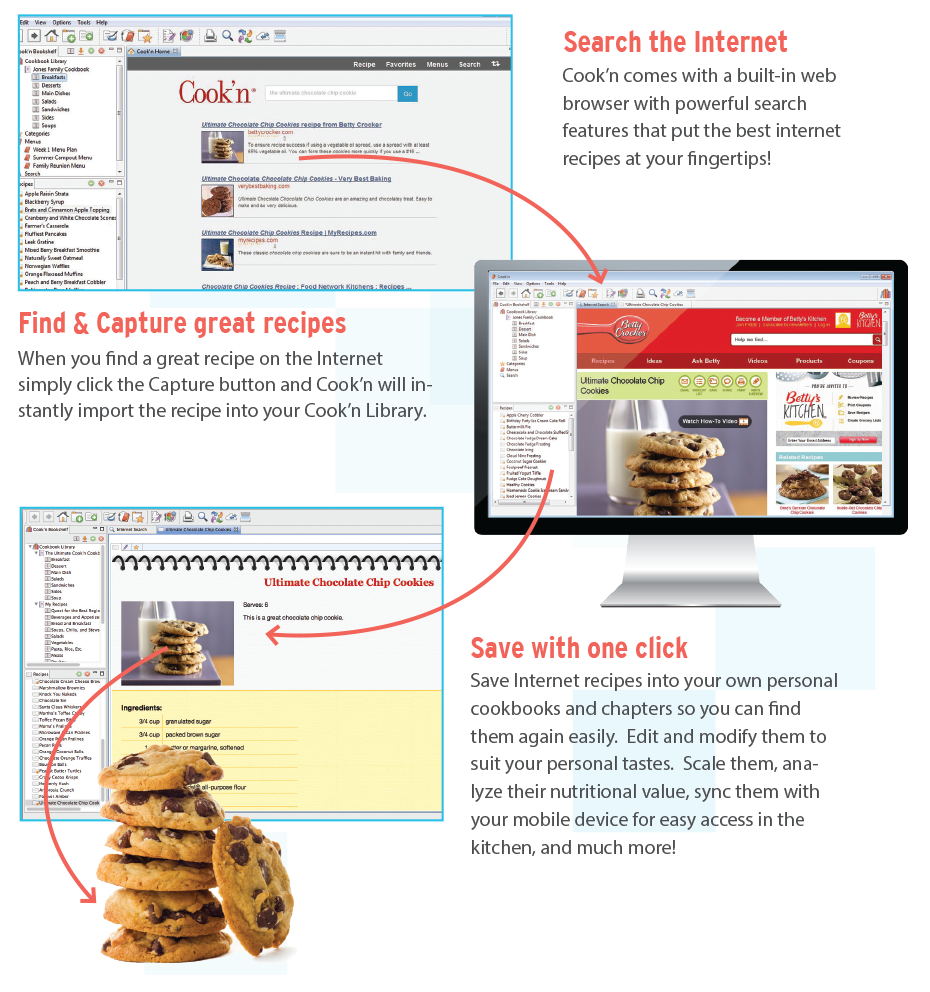 ---
Enjoy the all new

Visual Menu Planner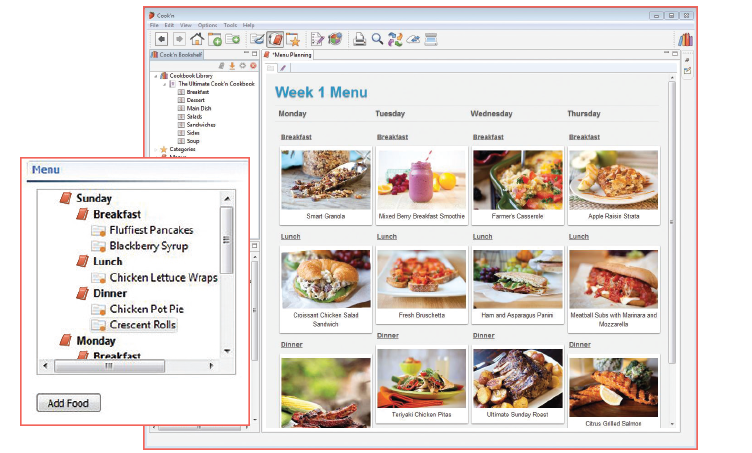 Create

Menus and Meal Plans
Research shows that those who use an effective menu planner are more likely to::
Save time by making less trips to the grocery store and by staying organized with meal plans

Save money by eating out less because they are prepared to make delicious home-cooked meals

Eat healthier by planning healthy menus and meal plans. And avoiding convenient foods rather than nutritional foods
Save gas by making less trips to the store and on fast food pickups.
Plan daily, weekly, or monthly menus
Making custom menus and meal plans is easy with Cook'n. Just drag and drop recipes and food items to plan your menu. You can even embed menus inside other menus. Make a spaghetti meal with french bread, a salad side dish and beverage and drop that meal plan under the "Dinner" label on Thursday night. It's that simple!
Make a shopping list from your menus
When your menu is all set to go, Cook'n will make a shopping list with one click! With Cook'n, weekly shopping trips are a piece of cake. And mealtime is simple because you know just what to make and you know that you have all the ingredients on hand to make dinner. No more last minute scrambles to the store or settling for fast food just because you can't think of anything better for dinner!
Recoup your investment
Cook'n makes it easy for you to combine your favorite Pinterest recipes with the recipes that you typed, scanned, captured and imported into Cook'n! Best of all, you have total control of the level of the detail and the period of your menu.
Print your menus
Cook'n will print your menu plan and all the corresponding recipes as well. That way, you can post it on the fridge and instead of asking "What's for dinner?" the kids and your spouse can help at mealtime!
---
Analyze Recipe Nutrition

using Cook'n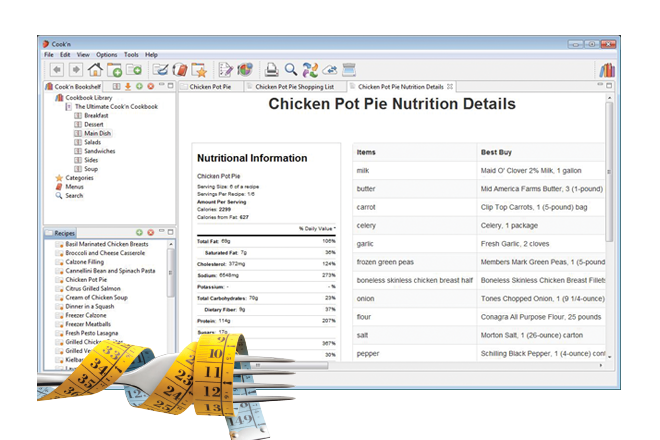 Stop guessing what nutrients are in the foods you are eating. Use Cook'n to help maintain a healthy diet!
Analyze the nutritional elements of recipes and menus
Cook'n makes it simple to calculate the nutrients your body is receiving. After typing in a recipe or importing one from the internet, simply click a button for the information you need. Save you a ton of time by analyzing nutrition in seconds!
View nutritional labels for every food and recipe
You don't have to be a nutritionist to understand how to analyze your recipes - that's because Cook'n nutrition facts window looks just like the label on a can.
Choose which brands are healthier
Cook'n has nutrition facts from the labels of over 10,000 food products. You can even choose between different brands to see what the nutritional effect is. Stop the guesswork among different brands and know which one is most appropriate for your needs.
Include nutritional info on printouts
When printing out a recipe or cookbook, Cook'n gives you the option to include nutritional information right underneath the recipe. Now you can plan menus based on dietary needs and tastes. Prepare healthy, delicious meals for the entire family.
---
Save Time and Money with theCook'n Shopping List Generator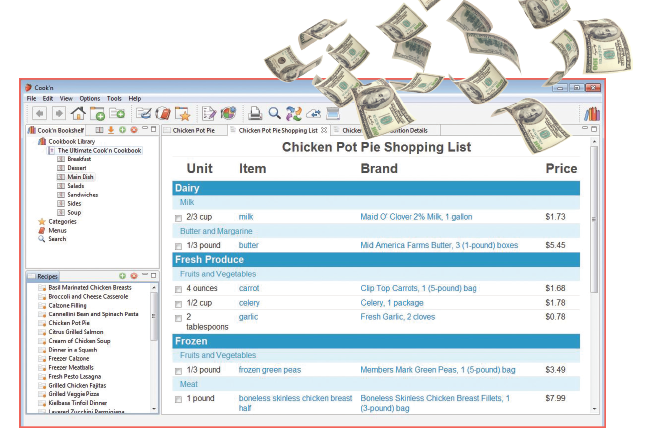 Grocery Shopping Assistant
Cook'n also calculates the approximate cost of your shopping list. Cook'n automatically combines the food on your menus and makes a grocery shopping list. It even converts tablespoons of tomato paste to 8 oz cans! Cook'n organizes your shopping list by aisle to save you time at the store.
With the Grocery Shopping Assistant you can:
Organizes grocery shopping list items by aisle
Compiles your family's grocery shopping list automatically
Calculates your grocery cost
Converts to package sizes (ie; tablespoon tomato paste to 8 oz. cans)
NEW! - Now shopping list integrate with Mygofer.com and the Green PolkaDot Box for easy online grocery shopping.
Import all your Pinterest recipes with one click
Organize your Pinterest Recipes in Cook'n
Cook'n will Automatically import all of your Pinterest recipes with one click and synchronize the two so any new recipes that you pin with automatically appear in Cook'n! It's not magic...but it's pretty close to it!
Once your

Pinterest

recipes are in Cook'n you can:
Create Menu & Meal Plans

Share them with Friends

Generate a Shopping List

Sync them to your Phone
Analyze nutritional values

and much more!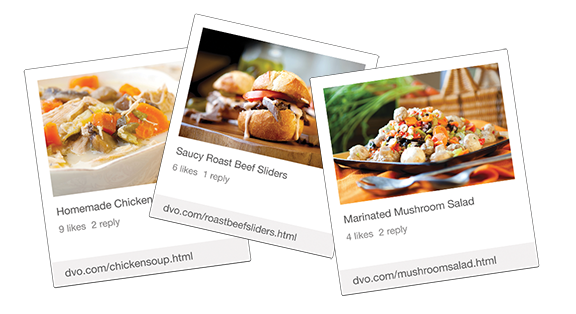 ---
Scan

your printed recipes or

Shoot a Photo

of them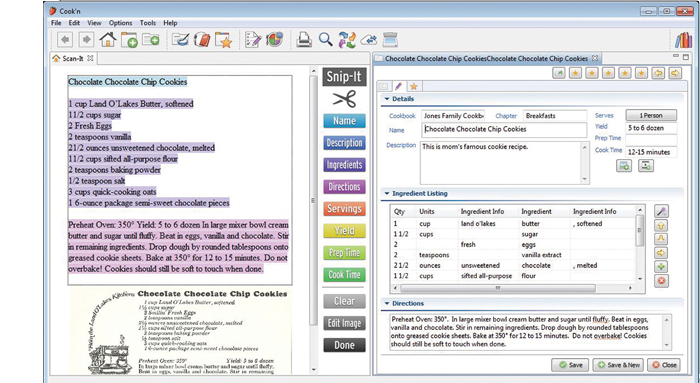 With the new Scan-It feature, it's easy to get all of your printed recipes into Cook'n without having to type any of them!
Importing recipes you clipped from magazines and newspapers is easy...just scan them! Or, take a picture with your mobile phone. Use the Scan-It feature to translate scanned recipes to text and use the Snip-It tool to copy & paste the text into Cook'n with just a few clicks!
Once your s

canned

recipes are in Cook'n you can:
Create Menu & Meal Plans
Share them with friends
Generate a shopping list
Synch them to your phone
Analyze nutritional values

and much more!
---
Capturing Recipes from blogs and other unformatted websites is easy with the new

Snip-It Tool
Cook'n Snip-It Tool

Most of the time, you can capture internet recipes with just one click. However, this doesn't work with web pages that are not formatted properly (like the recipes posted on many blogs). Enter Cook'n Version 11.

When Cook'n Version 11 detects web pages that are not marked up properly, it will automatically split the screen and display the Snip-It toolbar in the middle. Simply highlight the recipe directions and click the Directions button. Highlight the recipe ingredients and click the Ingredients button. With the new Snip-It Tool capturing recipes from your favorite blogs is a snap!
When you get recipes from your favorite blogs into Cook'n using the Snip-It Tool, you can:
Once your

Pinterest

recipes are in Cook'n you can:
Adjust serving sizes

Analyze nutritional values

Make shopping lists

Create menus, meal plans and much more!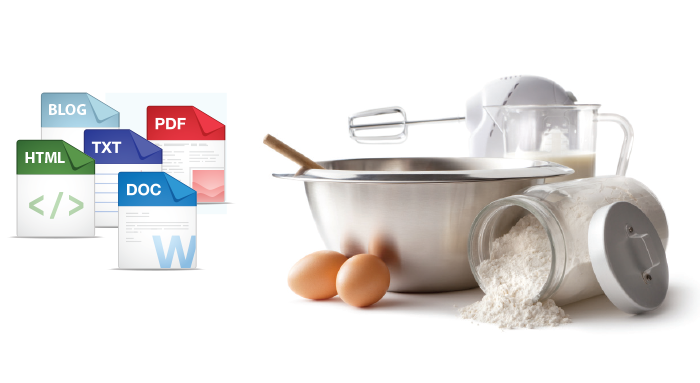 ---
Let the world's

Best Recipes

come to you!
Custom Live Recipe Feeds

Looking for recipe inspiration? Rather than browsing AllRecipes.com, FoodNetwork.com and other recipe websites, just launch Cook'n! As soon as a new recipe is posted on the web, it will appearr in the Cook'n Live Recipe Feed. Customize your recipe feed and follow your favorite websites easily. Click the recipe to see more or simply drag & drop it to save it in your personal cookbook.

You can customize your recipe feeds by:
Your favorite chefs

The most popular recipe sites

Your friends and family's Pinterest boards

Your personal recipe collection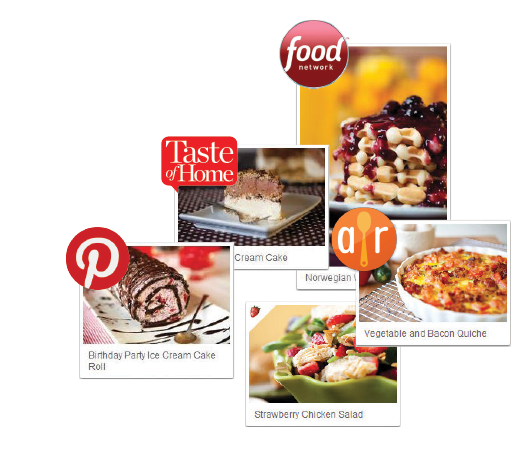 ---
Copy & paste text into the Cook'n

Snag-It Tool

and Cook'n will do the rest!
Cook'n Snag-It Tool
Cook'n makes it easy to import recipes from Word, Notepad, and all other text-based program. Just copy the text and paste it into Cook'n and the Snag-It tool will parse the text and divide ingredient lines into their component parts automatically!

The Snag-It tool in Cook'n will divide the ingredient lines into Quantity, Unit, and Ingredient columns automatically. Once your recipes are in Cook'n you can:
Adjust serving sizes

Analyze nutritional values

Make shopping lists

Create menus, meal plans and much more!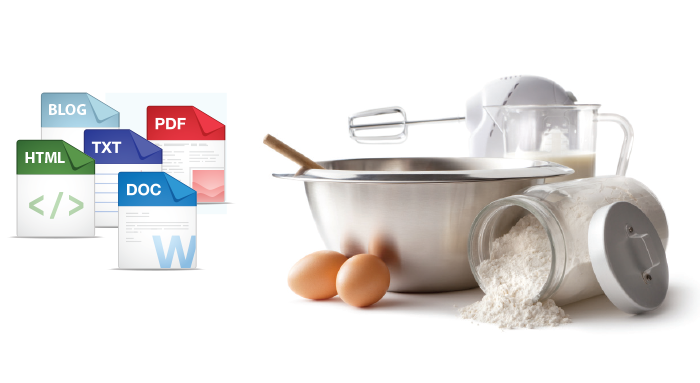 ---
Add

AllRecipes

to all of your recipes.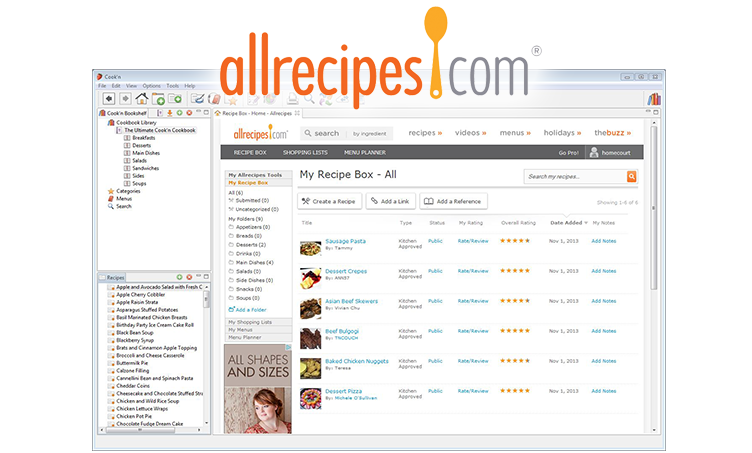 Import your recipes from AllRecipes.com with one click
There are over 30 million searches for recipes every day. The problem is: what do you do when you find a great recipe on the web? We create accounts on websites like AllRecipes.com and end up with different recipes on different accounts. Cook'n allows you to combine all your recipes from across the web into one place.

Once your recipes from AllRecipes.com are in Cook'n you can:
Create menu & meal plans

Share them with friends

Generate a shopping list

Synch them to your phone

Analyze nutritional values

and much more!

---
Print your recipes on beautiful

themed

3x5, 4x6 and full page printouts
Print Themed Recipes

The themes in Cook'n are great! And they're getting better all the time! Now, with Cook'n 11, your printed recipes can look just as fantastic as they do on the computer. In Cook'n 11, the print preview window is embedded inside Cook'n. And the new printing tool is capable of printing themed recipes in all formats (3x5, 4x6 and full page). Add pizzazz to your recipes and share them in style with Cook'n 11!

Print Family Cookbook Recipe Cards

Cook'n will make a professional looking cookbook complete with a title page table of contents, page numbers, index, food photos, etc. You can print one book for yourself or create a PDF file that you can email to your local copy shop. Have them print and professionally bind multiple copies that you can give away as gifts that your friends and family will treasure.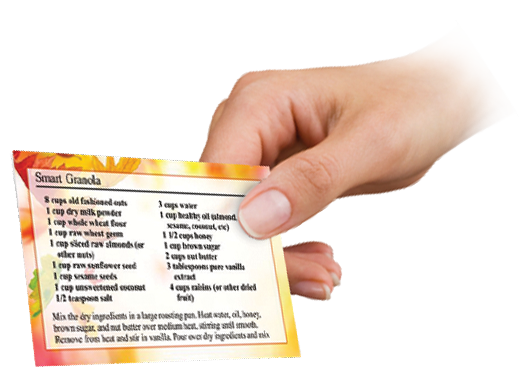 ---
Cook'n makes

sharing

your favorite recipes a snap!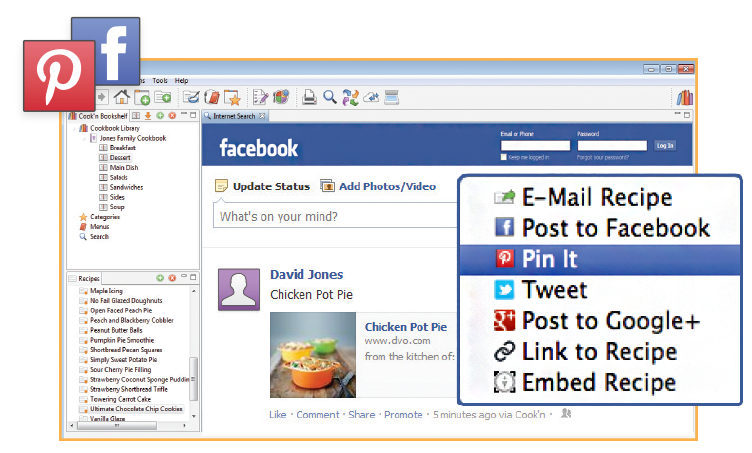 Easily Share Your Recipes
Post your favorite recipes on Facebook or pin your recipes on Pinterest with just one click! Print a family cookbook and give a gift that everyone will treasure or simply email a recipe to a friend. Tweet your recipes, embed your recipes in your web pages, and link to them. Sharing your favorite recipes with Cook'n has never been so fun!

Email Your Recipes
Cook'n makes it easy to email recipes to friends. With just a couple clicks, you can send recipes to anyone! Or export recipes to HTML and post them on your website or blog.

Share your recipes on:
Pinterest

Facebook

Twitter

Google+

Email

Text

Printed cards

PDFs

Blogs
Websites
---

Synch to the Cook'n Cloud
The Cook'n Cloud provides an off-site backup of your valuable recipe collection to keep your recipes safe and to protect against viruses, computer system failures, hard disk corruptions and data-loss. The Cook'n Cloud also makes it easier than ever to synchronize recipes between all of your Cook'n apps. For example, recipes entered into Cook'n on your PC will automatically appear on your iPhone, iPad, Android, Mac and other PCs.

Download from the Cook'n Cloud
When you log into your Cook'n Cloud account all of your own recipes will be downloaded to your mobile device for easy access in the kitchen. And, any edits that you make or photos that you take will sync back up to the Cook'n Cloud. Cook'n will sync recipes between all of your mobile devices AND desktop computers automatically.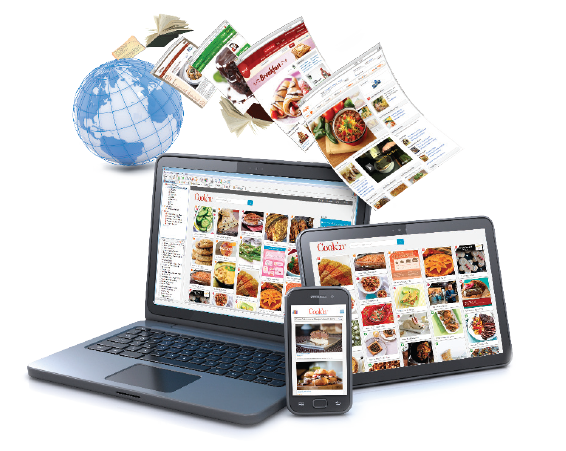 Recipes are one of the top searched for terms on the internet with Google getting millions of recipe searches a day. The problem is, what do you do when you find great recipes on the web? Most people print them. But then you end up with often messy stacks of papers on your desk combined with hand-written recipes, magazine clippings, etc. Some people set up online recipe box accounts, bookmark them, copy and paste into Word, and others pin them on Pinterest. But finding what you are looking for can be cumbersome and time-consuming. Now there's a better way…..enter Cook'n!
Cook'n has become the #1 best-selling recipe organizer software with over 3 million copies sold! It is the best way to take control of your recipes. Cook'n makes it easy to get all of your recipes into one platform by having powerful features which allow you to scan in recipes, capture favorite internet recipes with one click, import Pinterest recipes, copy recipes from Word, or simply type them in. You can even drag them in from a live recipe feed in Cook'n that shows delicious photos from brand-new recipe posts across the web. Once you have your recipes in Cook'n you can organize them into various cookbooks and chapters. Then is where the fun continues. You adjust serving sizes with one click, analyze nutrition, generate shopping lists, make meal plans and weekly menus, sync with your mobile device, print family cookbooks, and more!
Cook'n simplifies meal preparation and saves you time and money at the grocery store. Tell Cook'n which items you have on hand and it will suggest recipes or you can browse through hundreds of cookbook photos, including your own, to find one you like for dinner. Order today to preserve your favorite recipes and discover the joy of cooking again!
Pinterest Capture & Sync to utilize the Cook'n features for all of your recipe pins *NEW*
Share favorite recipes through Facebook, Pinterest, Twitter, etc. *NEW*
Live Recipe Feed to stream recipes from your favorite sources *NEW*
Import scanned recipes into Cook'n *NEW*
Import recipes from Word, email, etc. *NEW*
Enter and organize your own recipes (add photos also!)
Find & capture unlimited internet recipes
Sync recipes to iPhone, iPad, and Android
Design & print family cookbooks
Create menu plans & make grocery shopping lists
Adjust recipe serving sizes with the click of a mouse
Analyze nutritional values of any recipe
Type ingredients on-hand to get recipe ideas
Display recipes with colorful recipe themes
Exports to PDF & HTML
Awesome product and great customer service!!November 14, 2013
By N. Babcock
"Several years back I was looking for a way to consolidate all of my recipe cards, magazine tear outs and post it note scribbles not only for my own personal use but also to leave a legacy for my children and grandchildren of all those family favorites. At that time Cook'N was new on the market and I thought it was a great product that met my needs. Little did I know that these innovative people at DVO would keep their creative juices flowing right into the age of iPhone/Android Apps!! I can now access my recipes on my phone across the country, on my netbook in my kitchen, and everywhere in between. With the newly released Version 11, my days of typing in recipes are over as I am now able to scan in all those cards and tear outs and better yet, access recipes on line and automatically pop them into my Cook'N library! If you are afraid that you are not ready for computerized cookbooks, not to worry, just contact DVO customer service and they will talk you through anything you need to know.Can't say enough about this wonderful product and the customer service that comes with it!"
---
a great program. It does a good job of organizing May 5, 2014
By David C. Roberts
"Overall, a great program. It does a good job of organizing your recipes so that they are easy to edit and reorganize, and it makes importing a recipe from the Internet very easy.

The search feature that's built in--that, in response to a query gives you JUST recipes--is terrific. You can find a recipe with this search about ten times as fast as you can with Google, because you don't have to sort through all the results that aren't recipes.

They're also quite generous and let you install the program on all of your computers. With the new cloud recipe synchronization, you can now have all your recipes on all of your computers. And you can edit at any one of them, and all will get the result.

DVO has taken on a very hard challenge--being able to import any recipe on the Internet. The first versions of the program to do this weren't very good at it, but Version 11 now does quite well. And in case they can't import it, they give you a wizard to point out different sections of the recipe, and they take it from there. Is it perfect? Not many things are, including this. But it does well enough that I can't imagine going back to making pdfs of recipes I liked and saving them.

I've occasionally found a problem and reported it, and their customer service is excellent. You can have a meaningful dialogue with them and they are seriously interested in making you successful. It takes two days for them to get back to you--however, from what I see they actually do look into issues seriously. They are not just trying to get rid of you.

At the price, for all of your computers (and phones!) I think that Cook'n is a bargain. It's the first recipe program that I would recommend, have tried a number of them."
---
Love it,November 21, 2013
By RD "Michelle"
"As a private / instructor chef, this software is useful, efficient, and time saving. I love it!
I wish I knew about it earlier. Thanks for helping us."
---
Didn't know food could be such fun without actually EATING!,November 21, 2013
By Maureen Kno
"I love it! Just downloaded Cook'N 11 last night, and I'm having a ball with it. I'm on Windows 8.1, and it works beautifully with this O.S. The program seems very easy to learn and extremely well thought-out. Only thing that I haven't been able to do so far is scan in recipes, but that's no fault of Cook'N -- that's this maddening Windows 8.1 which doesn't recognize the scan function on my printer. (Grrrrr.) But once I overcome that hurdle, I'm sure I'll be a scannin' fool, because I have lots of messy clippings from magazines, old internet print-outs, handwritten 4x6 cards from my mom's old cookbooks, etc. It will be so great to have ALL my favorites in one easy, organized database. I think Cook'N is not only a useful tool - it's a great new hobby! Don't be alarmed by the many negative reviews of the earlier Cook'N versions -- and don't cheap out and buy any of the earlier versions. They can't do what version 11 does (the scanning feature, among others). Just buy this version 11 and start having fun with it. Gotta go now....I want to get back to playing with my new Cook'N!!!"
---
Great job Dan and Crew!,November 19, 2013
By Drew S.
"I recently upgraded to version 11 after using version 10 for a while. Version 10 was great and user friendly. While still learning the newer software, I really like the ability to have immediate access to my recipes via my Android phone by way of the cloud account. My wife and I literally have in excess of 100 printed cook books and this software program/cook book is the only one I use. After using 11 for a brief time I purchased four more copies for Christmas gifts. Sharing recipes via the cloud will greatly enhance our culinary experience. Great job Dan and crew!"
---
Great recipe organizer,January 26, 2014
By ikkint123
"I love the Cook'n software. I love that everything is broken down into meal types and that you can easily print the shopping list needed to create the meals. It is awesome that you are able to meal plan and browse recipes as well as create a shopping list all in one place!"
System Requirements for Cook'n Recipe Organizer:
1 GB RAM

300MB Hard disk space

Macintosh® OS X 10.7 – 10.11.3
Or visit our Summitsoft site to purchase the PC version of Cook'n

---
*Sale Exclusions Apply. View Details Here
Other Products You May Be Interested In

Home Design Studio Essentials

Plan the house of your dreams, deck, landscape or any remodel project
macTuneUp 7.0

Every Mac could use a good cleaning!